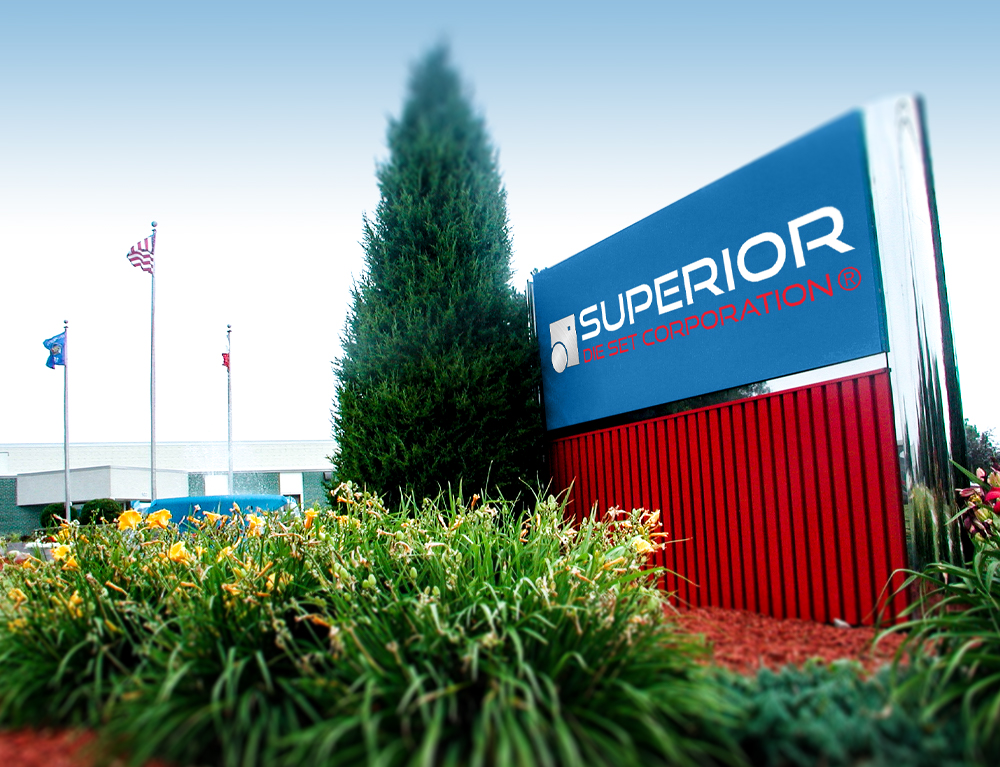 New CEO of Superior Die Set in Oak Creek plans to reinvent company
Kasimir Janiszewski started Superior Die Set Corp. in 1923 after the 23-year-old moved to the United States from Poland. As the story goes, Kasimir was asked when he arrived in the United States what did he do for work. Kasimir responded, "What makes the most money." He was told the tool and die businesses, so that's what Kasimir pursued. For 96 years Superior Die Set at 900 W. Drexel Ave. in Oak Creek was run by three generations of the Janiszewski family. With just four years until the company's centennial, Superior Die Set made a change, appointing Martin Girga Jr., the first non-Janiszewski, as the president and CEO of the company.
And Girga hopes that he can reinvent the company in the next four years before the anniversary.
Though Girga was the first non-Janiszewski to take over the company, he felt like his personal connection to the family positively impacted him. The 46-year-old CEO understood Kasimir's story of coming to the United States with a few dollars in his pocket because Girga's family did the same thing.
Girga moved to the U.S. from the Czech Republic in 1982 when he was 11 years old. His father is Czech, and his mother is Polish. Growing up, his parents often worked two jobs to provide for the family. That's where he said he gets his work ethic from.
Girga joined the company on July 8. For the first month, the first-time CEO would often work two shifts, meeting with customers and staff during the first shift and spending the second shift on the floor learning the intricacies of die set manufacturing.
Superior Die Set has its main facility in Oak Creek as well as a facility in Greendale, known as Greendale Precision Services, and two facilities in Poland under the name Pro Plastica. In Wisconsin the company employs around 200. Girga is working to implement a new stance within the company called "Back to Superior."
"Let's not just be good. Let's be superior," Girga said. "I think they [the company] achieved within this industry the name brand that stood for superior products. Over time we lost that because of competition, and we didn't reinvent ourselves."
Vice president of sales and marketing Mark Ullstrup, who has been with the company for 38 years, said being superior is about being the best in the industry, being world-class. It's a benchmark that Girga believes the company continuously has to push itself to be.
In order to consistently achieve that superior status, Girga is implementing a three- to five-year plan, which he hopes to complete by the company's centennial. He's calling it Superior 2.0. "By our 100th anniversary, the Superior group of companies is the global partner of choice providing high quality precision products and innovative solutions," the company's vision statement reads.
The first change is what Girga describes as the low-hanging fruit, to implement lean manufacturing improvements to reduce lead times. His goal, which he believes the company can achieve, is to shorten lead times by 75%.
It's also about remarketing the company, Ullstrup said. The company is known for its die set business, according to Ullstrup, but there are other avenues that can be potential room for growth. He said the company hopes to be recognized for its ability to cater and supply to other industries such as forging, fabrication and injection molding industries. "They're looking for partners. They're in the same boat as we are. They just don't want a supplier, and we just don't want a customer," Ullstrup said.
In year two, Girga wants to invest heavily in technology and make sure all four plants in Oak Creek, Greendale, and Kielce and Bytow, Poland, are unified as one global company. The two Poland facilities have made drastic improvements over the years including new facilities and new equipment. Currently, the two plants in Poland are mainly used for plastic injection molding. Girga said with more potential opportunities in Poland, he will look to grow those markets and diversify to new products.
In years three and four Girga hopes to make new acquisitions in the company and work to drive new talent into the company as many long-term employees will be retiring in the upcoming years. As part of the company's mission statement, Superior Die Set has a goal to hire, develop, retain and empower employees. Girga hopes to work with local technical colleges to create a younger workforce.
"To do a turnaround transformation, he has got to get everyone on board, going in the same direction, and that's not easy," Ullstrup said of Girga's goals. "Marty has done that in weeks. His leadership is incredible."
Name: Martin Girga Jr.
Hometown: Frýdek-Místek, Czech Republic
Current city: Franklin
Family: Wife, Kimberly, with five children (14-year-old son, 18-year-old triplets, 24-year-old son)
Age: 46
Hobbies: "Reading bible and books related to leadership; fishing, golf and now enjoying making our company Superior"
Education: MBA from Benedictine University in Lisle, Ill.
Fun fact: "I have been together with my wife since I was 16, so married for 25 years and together for 30 years."
SOURCE: By Margaret Naczek – Reporter , Milwaukee Business Journal CLICK HERE FOR ARTICLE
Explore More Press Releases